Access our most powerful and intuitive platform to date
Harness the power of cloud-based convenience for your Appraisal
The MEDSU MAP is an advanced multi-user portal for medical practitioner Appraisal and development, based on continuing medical education and reflective practice. This Appraisal ePortfolio module provides a secure document and workflow for the annual medical practitioner regulatory CME cycle.
Documenting Medical Governance, Quality Assurance and Continued Competence becomes a seamless stress free part of everyday practice.
The MEDSU web-based Appraisal platform provides an intuitive portfolio solution
We honestly believe that our technology provides the best Appraisal solution available today. With quick and simple registration you can capture essential data on the go. 
Familiar and intuitive Appraisal ePortfolio format
Synchronous Android/IOS Apps
Smart Version Control
Auto-save Feature
Unlimited File Uploads
No time or location constraints
Video Call Functionality
Full Appraisal History
MSF Feedback toolkit included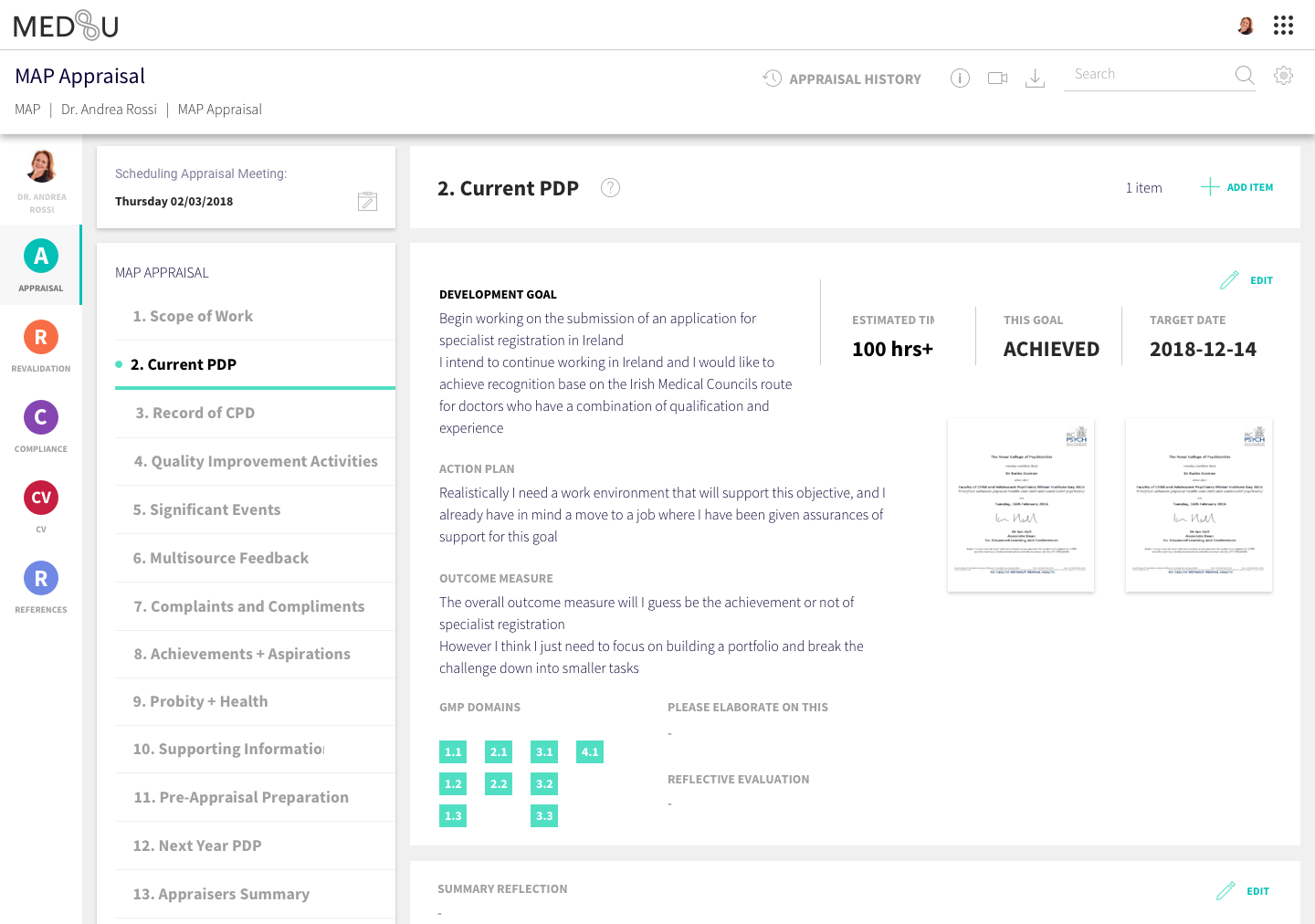 A complete Appraisal ePortfolio in the palm of your hand!
The familiar MEDSU MAP functionality is readily available within an app, making it easy to navigate and enabling you to update any section of your portfolio whilst on the go, and by using your smartphone to update your portfolio, you can now take full advantage of the additional functionality your device offers including:
Fully integrated with Google Drive for ease of document upload
Take and upload photographs as supporting evidence with ease
Upload voice files
Integrated with other key smartphone applications
Your cloud-based Appraisal ePortfolio saves automatically from each point of update when using your phone so that you can now access and update your MAP online from either your PC, laptop, tablet or phone.
*The MEDSU app is available to download for free to all MEDSU Annual Governance Subscribers.
Feedback Toolkit Included
MEDSU members gain access to our unique MSF Toolkit to help them issue and collate from patients and colleagues.
The toolkit dashboard provides a simple overview of progress to date plus you can export your results in PDF to upload into your Portfolio with ease.
Register today to get started on your MAP!
COLLATE
Login to the MEDSU portal and start adding evidence into your Appraisal ePortfolio.
SCHEDULE
Call us to pre-schedule your Annual Appraisal date and receive reminders.
Contact us for more information
MEDSU Ltd, Suite 129 Communications House, 9 St Johns Street, Colchester, Essex,
CO2 7NN
International:
+44 (0) 207 183 9544
UK Freephone:
0800 689 9434
UK Company Number 08220779  |  © Copyright MEDSU 2022